Finding a working betting system should not be about replacing your 8 hour working day at a company with an 8 hour betting day at home in front of a PC. It should be about getting more time and more freedom, so if you cannot automate your betting system to require less than a few minutes attention a day to check up on and a few hours a month to manage, then is it really worth it?
The Bf Bot Manager Automated Betting Bot Software
I use Betaminic strategies as base value trends that have a high probability of making profit on level stakes just on pre-match bets. I then apply a staking plan to them, Secure Staking, with the settings that I researched myself (and published in my book The Staking Plans Book). I then have several add-on auto trading strategies that trade in-play based on match events. These work together to get the most out of the Betaminic strategies. (I tried using my own Bf Bot Manager only filters, but I did not get positive results. The Betaminic strategies gave me the value trend to build my other bot strategies from.)
I have used Betaminic since 2017, but had to place bets manually. Just recently Betaminic and Bf Bot Manager have become compatible to allow completely automatic betting. This allowed my to place hundreds of bets in one weekend instead of one month.
The results speak for themselves:
I followed 57 Betaminic strategies since February 26th 2021. I had a main strategy and add-on strategies.
My main Bf Bot Manager strategy that followed the Betaminic picks using the Secure Staking plan settings doubled the bank in 30 days in its first cycle. The bank doubled again in its 2nd cycle in just 9 days. It is currently still in its 3rd cycle which started on April 6th. (Date of writing: April 17th)

I pay £10 per month for the Bf Bot Manager and £10 per month for my Virtual Private Server (VPS). I pay for Betaminic tips per pick. Each pick costs me € 0.69. So the cost of each cycle depends on the variance of the strategies.  But if I can double my bank every month, I will be very happy.
Even with a £1,000 betting bank, it is enough to begin this fully automated betting system.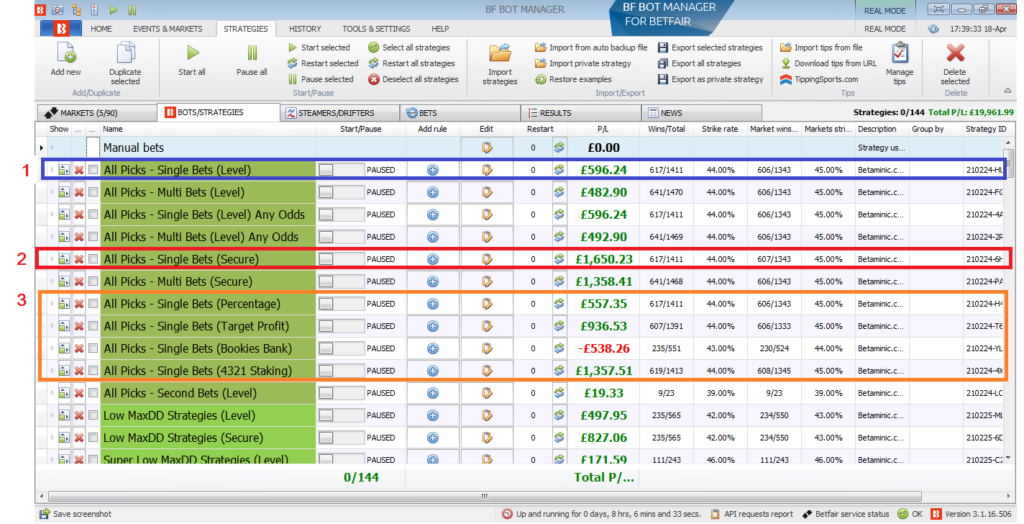 These are the current results on April 18th. I am testing several staking plans and strategy settings at once to gather data and find out the best settings. After 1,411 bets I am confident to say that Secure Staking is the best staking plan for these strategies. The level stakes (1) are 59 points in profit, but the Secure Stakes (2) are 169 points in profit. The other staking plans (3) mostly perform well but Secure Staking is best.
I also use add on strategies that place bets based on the Betaminic base strategies and in play events such as goals, red cards or shots on target that trigger extra bets. I also use the Betaminic over 2.5 goals strategies as base strategies for Lay The Draw trading. While not all of them are perfected yet, they add value to the base trends.
I also run other strategies with small stakes as tests to find which add-on strategy settings will work best. These are then added to my active sets. Data is important, and unless an add-on strategy is still in profit on level stakes after 100 bets, it does not get approved. So there is still more testing ahead for these newer ideas. These newer strategies place extra bets if the score is still 0—0 at the 10m, 20m, 30m mark and so. The "dominating" strategies are the same but only place bets if the home team is having many shots on target, lots of possession, many dangerous attacks, etc. It would be impossible to do all this manually, but automated betting makes this possible.
Bf Bot Manager released an update at the end of April, so I have had to restart and adjust my strategies after installing the new updated version, but I will continue to research and make sure I am following the most efficient value betting system. I will be posting those updates here in future.
For my Betaminic referrals, I can email you my Bf Bot Manager strategy files if you want to use them. But it is important to read the manual and watch the Bf Bot Manager tutorial videos to get an understanding of the software yourself so that you know exactly what your bot is doing. It is a little complex, but worth the effort to learn properly.  If winning at gambling was easy, everybody would be doing it!
When I shared my Betaminic strategies, I got a lot of feedback and some users exchanged a lot of ideas and information with me. That has helped me get to this stage. I hope that by sharing my Bf Bot Manager strategy ideas, that the same thing will happen, and that other users will share their working strategies with me as I will with you.
Good luck to us all. We now have all the tools we need to have the best shot at beating the bookies.
Here are some basic strategy files for Betaminic users getting into the Bf Bot Manager I will send you free.
This "Basic Level Stakes Strategy Set of 5" set includes:
1 main strategy on level stakes
5 add on strategies on level stakes
Unfortunately, my website does not allow zip files to be downloaded for security reasons, so you will have to email me to get the files.
A short mail is fine. "Tom, please send me the Basic Level Stakes Strategy Set of 5." is fine.
Send to [email protected]
If you would like the main strategy with secure staking, please email me for the file. (My Betaminic referrals only)
I will add and improve these sets as new test strategies get over the 100 bet mark in profit. If you would like me to test something, let me know. [email protected]